I have firstly encountered Iceberg Model somewhere on the Internet during 2017, in one of Leyla Acaroglu's articles/blogs. It immediately made sense to me and I copied it to my notepad. In short, it's a tool used to gain a deeper understanding of things. It illustrates that things we see or read about in newspapers (events) are only a tip of iceberg. There's much more of iceberg under the water, just as there are things that influence things we see or read about, but are not easily visible.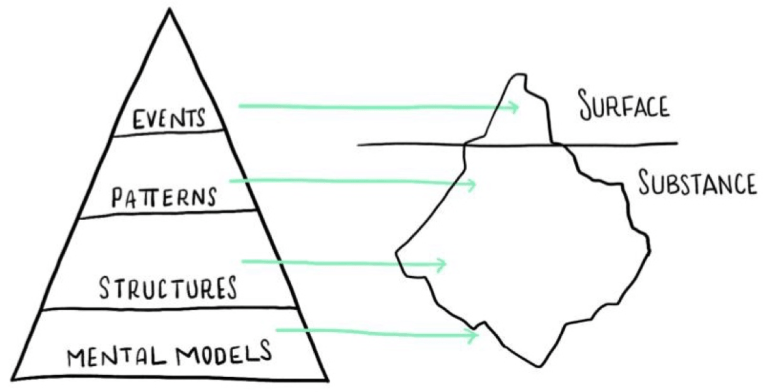 A few days ago I tried to find Leyla's post, but failed. Instead, I found Systems Thinking With The Iceberg: A Tool for Multi-stakeholder System Sight which explains it nicely.
In order to help myself understand (un)employment in Bosnia and Herzegovina better, I decided to give the iceberg model a try. Here are the first results.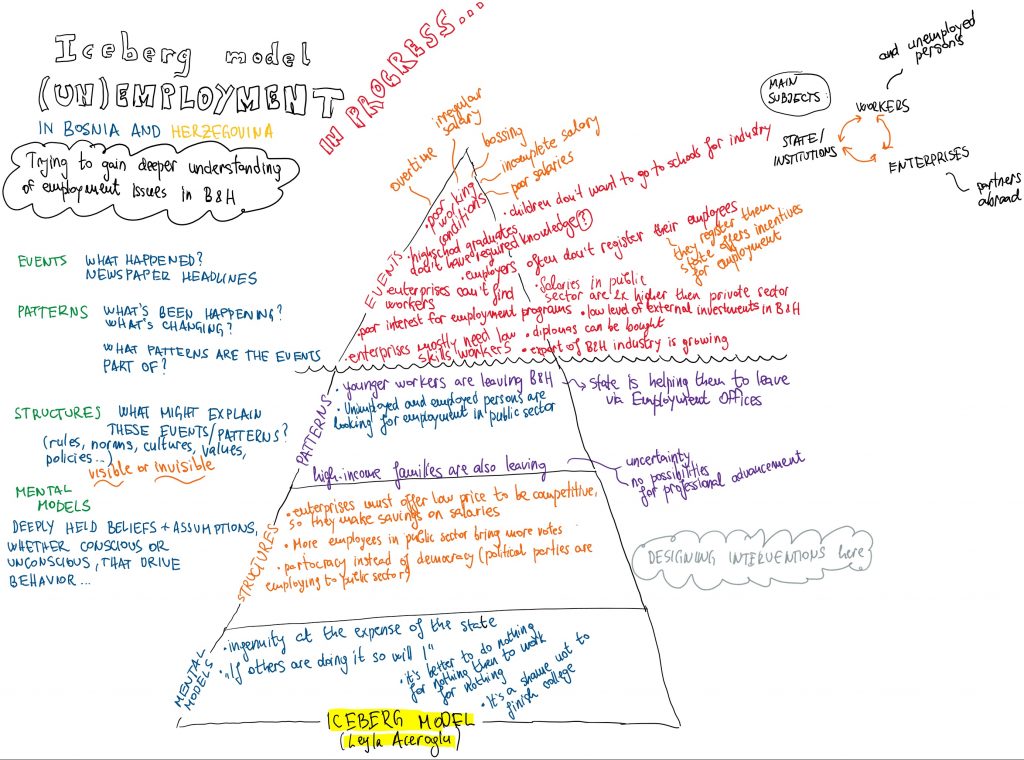 right click -> open image in the new tab to see full size image
EVENTS:
Poor working conditions in industry: overtime work, irregular salaries, "bossing", incomplete salaries at the end of the month, poor salaries…
Employers report that high school graduates don't have appropriate knowledge
Employers often don't register their employees (they usually do it later, when state offers incentives for employment)
Enterprises can't find workers
Unemployed persons show poor interest for employment programs (note: high school graduates show best interest)
Enterprises mostly need low skilled workers
Export of B&H industry is growing
Diplomas can be bought
Low level of foreign investment
Salaries in public sector are 2 times higher than in a private sector
Children (and their parents) don't want to go to high schools for industrial professions
PATTERNS:
Workers are leaving B&H, especially young people (large percentage of them is finding jobs abroad with help of Employment Offices)
High-income families are also leaving (some of the reasons I found in interviews online are general uncertainty and lack of possibilities for professional advancement)
Both unemployed and employed persons are looking for jobs in a public sector
STRUCTURES: (what I found interesting and useful is that you design interventions at this level)
Enterprises must offer their products for low price to be competitive (since without Research&Development and final products, they don't have many possibilities), so they are making savings by paying low salaries
More employees in the public sector bring more votes
Partocracy is in power instead of democracy
MENTAL MODELS:
Ingenuity at the expense of the state
"If others are doing it so will I"
"It's better to do nothing for nothing, then to work for nothing"
general belief that it's a shame not to finish a college
This post will be continued…
P.S. If you have any comment or additional insight, please don't hesitate to write it in the comments section below.