U vremenu kada narudžbe iz inostranstva pristižu pojačanim intenzitetom, naše firme ne uspijevaju odgovoriti pozitivno na sve narudžbe i prisiljene su mnoge odbiti.  Prisiljene su iz više razloga, koji se uglavnom svode na to da nemaju kapaciteta da izvrše tražene poslove. Kapacitete ne mogu proširiti, jer ne mogu naći radnu snagu, ili im se ne isplati zbog jednog posla kupovati novu tehnološku opremu. Odbijanje poslova nikako ne može biti dobro za lokalne firme, jer je očekivano da će nakon nekoliko odbijenih narudžbi, inostrani naručilac prestati da uzima u obzir lokalnu firmu. Jedan od načina da se usko grlo kapaciteta prevaziđe je ujedinjenje pojedinačnih kapaciteta, tj. saradnja između firmi. Saradnja, dakle, sve više postaje nužnost.
U želji da dođemo do odgovora zašto naše firme ne sarađuju više i baveći se razmišljanjem kako da bude više saradnje između lokalnih firmi, Eda je sprovela SenseMaker istraživanje o poslovnom umrežavanju. Tom prilikom smo prikupili stotinjak priča o uspješnim i neuspješnim slučajevima saradnje.
Pored brojnih inicijativa koje u sastavu imaju i podršku poboljšanju saradnje u privredi, pokazalo se da do saradnje dolazi prevashodno zahvaljujući samim preduzećima.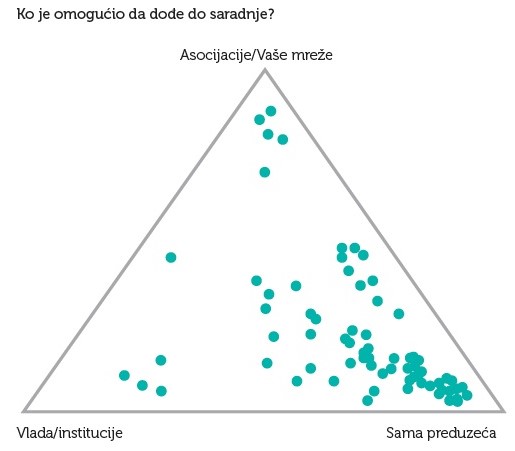 Takođe, vidjeli smo da do saradnje nije dolazilo zahvaljujući zvaničnim procesima i sastancima, već spontano – zahvaljujući slučajnim susretima i kontaktima. Dakle, postoji veliki prostor za unapređenje podrške Vlade ili njenih institucija, kao i asocijacija ili mreža (klasteri i slično) međusobnoj saradnji firmi. Međutim, treba voditi računa o tome kako stvari sada funkcionišu, tj. treba omogućiti da spontanih susreta i kontakata bude više, tj. da se poveća broj mjesta gdje se potencijalni partneri mogu sresti i čuti jedni za druge, bez insistiranja da se procesi i sastanci ozvaniče.
Kada se govori o saradnji, firme, odnosno njihovi rukovodioci, ne doživljavaju podsticaje ili nagrade kao značajnu pomoć. Kao pomoć doživljavaju vještine, prije svega svojih radnika, koji su omogućili da se uspostavi saradnja između firmi. Ovo treba imati na umu pri planiranju intervencija za jačanje saradnje između lokalnih firmi.
Primijećeno je da srednja i velika preduzeća sarađuju znatno više od malih i mikro preduzeća, koja se uglavnom takmiče ili ignorišu To se može objasniti time što mala i mikro preduzeća nemaju kapaciteta za saradnju sa drugim preduzećima. S druge strane, srednje i velike firme imaju kapacitete u formi ljudi, mašina, inženjerskih vještina, i sl. Tako se otvara prostor za saradnju s drugim i u smislu zajedničkog prihvatanja velikih narudžbi, ali i u smislu zajedničkog unapređenja proizvoda i inoviranja. Osim toga, srednja i velika preduzeća imaju i veće potrebe za saradnjom, jer proizvode više tehnološki zahtjevnijih proizvoda.
Za uspješnu saradnju se kao jedna od ključnih stvari pokazala redovnost interakcija. Sa rastom redovnosti interakcija, rastu i pozitivne emocije tokom saradnje, tj. saradnje bivaju uspješne. S druge strane, kada nije bilo redovnih interakcija, a kada jeste bilo međusovnih obaveza i povjerenja, rezultat su bile neuspješne saradnje.
Pri uspostavljanju saradnje, na ljude su najviše uticali trenutne potrebe i budući pravac razvoja, dok je ranija praksa imala slabiji uticaj. Ovo je posebno izraženo kod velikih firmi. Upravo su tu locirane i uspješne priče – to su slučajevi kada su najveći uticaj imali trenutne potrebe i budući pravac, bez uticaja ranijih praksi. Tamo gdje su ranije prakse imale dominantan uticaj su uglavnom neuspješni slučajevi saradnje, kada saradnja nije dala očekivane rezultate.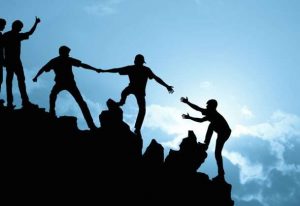 Jačanje saradnje lokalnih firmi će vjerovatno biti u fokusu budućih projekata u BiH. Projekti će pokušavati jačati saradnju na više načina. Posmatrajući kako do saradnje dolazi sada, prije projektnih intervencija, biće interesantno gledati kako će se praksa saradnje mijenjati vremenom kako projektne intervencije budu uzimale maha. Ono što treba uzeti u obzir je da je vrlo vjerovatno nemoguće, a upitno je i da li je požaljno, promijeniti sadašnje prakse u velikoj mjeri. Moguće je usmjeravati saradnju postepeno, od onoga kako je sada prema onome što želimo da vidimo, a izvodivo je bez pretjerano mnogo napora. Moguće je, dakle, da bude više spontanih i neformalnih susreta rukovodilaca preduzeća. Moguće je da se firmama pomogne u stručnom usavršavanju svojih radnika. Moguće je stvoriti (online) alate koji će omogućiti da se saradnja potakne i da interakcije budu češće. Moguće je povezati firme sa stručnim savjetnicima koji će im pomoći da preispitaju svoje trenutne potrebe i budući pravac razvoja, kao i trenutni model rada i proizvodni procesi.
Raditi na takav način, poštujući trenutni način kako se saradnja i funkcionisanje firmi odvija, uz intervencije koje evolutivno naginju u željenom pravcu, potencijalno mogu da daju odlične rezultate, a prostor za neuspjeh je zadržan u zoni sigurnog (safe-to-fail).