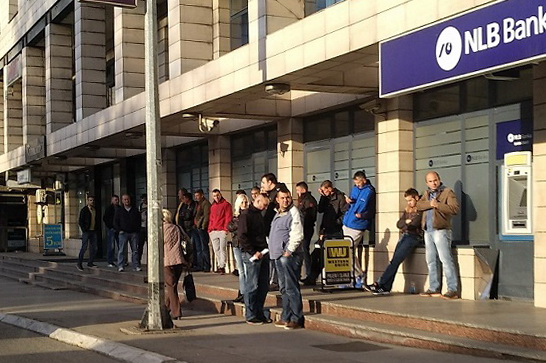 Juče pored slovenačkog konzulata u Banja Luci u redu stoji 30-40 mladih muškaraca, samo jedna žena među njima. Gotovo svi oni čekaju vizu za Sloveniju gdje odlaze zbog pronalaska zaposlenja. Zvaničnih podataka o spoljnim migracijama stanovništva nema, kao što nema ni podataka o polnoj strukturi migranata iz Bosne i Hercegovine. Međutim, informacije koje dobijamo od preduzeća i nezaposlenih (ali i iz redova ispred konzulata) pokazuju da veći broj (mlađih) muškaraca napušta Bosnu i Hercegovinu u potrazi za poslom. Razlozi za to su velika tražnja preduzeća iz zemalja EU i dobre plate iskusnih varilaca, stolara, molera, lakirera, radnika na građevini, vozača, odnosno zanimanja u drvopreradi, metalopreradi i građevini, kojima se uglavnom bave muškarci. Vjerovatno bi polna struktura migranata bila drugačija da se inostranstvu više traže krojači, šivači i druga tradicionalna "ženska" zanimanja, iako se i odlazak (mlađih) žena povećava sa razvojem turističkih, ugostiteljskih i medicinskih usluga i sadržaja. Ali i pored toga, često žena ostaje kod kuće brinuti o djeci i domaćinstvu, dok se, u potrazi za boljim uslovima i primanjima, na put prije odlučuju muškarci.
Iz razgovora sa predstavnicima preduzećima saznajemo da veliki broj iskusnih radnika odlazi u Sloveniju, Austriju i Njemačku. Iz razgovora sa nezaposlenima saznajemo da su zainteresovani za obuku za industrijska zanimanja ili rad u industrijskom preduzeću kako bi se obučili za rad u inostranstvu, dok nam iz Biroa za zapošljavanje kažu da veliki broj nezaposlenih lica koji su prijavljeni na Birou samo čekaju posao u inostranstvu.
Svjesni kontinuirano  negativnog prirodnog priraštaja i smanjenja broja muškaraca zbog ratnih dejstava i intenzivnih migracija, treba se zapitati šta će se tokom narednih godina, dešavati sa  strukturom radne snage u Bosni i Hercegovini.
Industrijska preduzeća, posebno u oblasti drvoprerade i u određenoj mjeri u oblasti metaloprerade, u Bosni i Hercegovini se razvijaju i imaju sve veću tražnju za radnicima. Ta ista industrijska preduzeća konstalno imaju potražnju za obučenim radnicima jer, jednom kada se obuče, radnici odlaze na rad u inostranstvo. Ženska populacija se manje obrazuje za zanimanja koja su potrebna industrijskim preduzećima, što zbog tradicije, što zbog potrebne fizičke snage za rad u industrijskim zanimanjima. Ali, ako se odlazak mlađe muške radne snage nastavi ovih tempom, da li to znači da će se industrijska preduzeća morati više oslanjati na žensku radnu snagu, koja možda ima manje mogućnosti i želje za odlazak u inostranstvo.