Milan Vrhovac (25) je jedan od mnogobrojnih mladića iz Prnjavora koji se nalazi pred jednim od najvećih izazova danas – kako do posla?
Milan je po struci građevinski tehničar. Završio je 2012. godine Srednju školu u Prnjavoru – smjer geodezija i građevinarstvo i od tada pokušava da nađe posao. Iako je povremeno radio honorarno, pravog posla nije bilo. Odlučuje da se prijavi na Biro za zapošljavanje 2017. godine u nadi da će se prilike za posao ipak pojaviti. Slobodno vrijeme nastoji da iskoristi za učenje stvari koje bi mu u budućnosti mogle biti od koristi: njemački jezik, rad u programu AutoCAD i osnove programiranja.
U novembru 2017. Milan dobija informaciju od predstavnika Zavoda za zapošljavanje – Biro Prnjavor da će se u okviru projekta "Partnerstvo za kvalitetna radna mjesta i konkurentnost", koga provodi Lokalno partnerstvo za zapošljavanje Prnjavor, održati obuka za aktivno traženje posla. Lokalno partnerstvo Prnjavor je jedno od 15 takvih partnerstva uspostavljenih u zemlji u okviru projekta "Podrška lokalnim partnerstvima za zapošljavanje u Bosni i Hercegovini", kojeg EU finansira sa 4 miliona eura a provodi Međunarodna organizacija rada (ILO), a koji za cilj ima prekvalifikaciju skoro 2.000 nezaposlenih osoba te zapošljavanje najmanje njih 620 u 22 opštine u BiH.
Milan se prijavljuje na javni poziv za obuku za aktivno traženje posla jer vjeruje da će mu ona biti korisna i da će mu olakšati put do zaposlenja. Tokom obuke, zajedno sa ostalim polaznicima, uči kako da pripremi biografiju, motivaciono pismo i vježba intervju za posao. "Neke stvari sa obuke kao što je npr. priprema CV-ja su mi od ranije bile poznate, ali nisam nikada imao priliku da razgovaram sa potencijalnim poslodavcima, tako da mi je vježba tog razgovora bila naročito korisna", ističe Milan.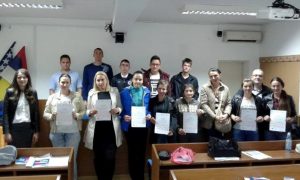 Nedugo poslije završetka obuke za aktivno traženje posla, u Zavodu za zapošljavanje – Biro Prnjavor, Milana obavještavaju da je raspisan i drugi javni poziv, ovaj put za obuku za rad u industriji obuće. Iako je po struci građevinski tehničar i nikada nije imao nikakav kontakt ili iskustvo sa industrijom obuće, bio je otvoren za nove prilike, spreman da uči i prilagođava se. "Hajde da probam i vidim kako je", razmišljao je Milan. "Na početku obuke je bilo prilično teško, trebalo je da se upoznam sa mašinama koje su za mene bile nove i nepoznate, ali ljudi koji su me obučavali su mi znali dobro objasniti šta i kako treba da radim i imali su strpljenja prema meni. Sa druge strane, ja sam se trudio da ih slušam i radim najbolje što mogu, tako da sam poslije 22 dana uspješno završio obuku, koja je obuhvatila rad prvo na jednoj, pa onda i na drugim mašinama", ističe Milan.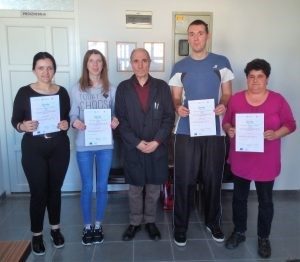 "Odmah poslije završetka obuke, ponudili su mi posao. Prihvatio sam ponudu uz veliku radost i zadovoljstvo, tako da sam od 1. aprila 2018. počeo da radim u preduzeću KLM. Trud se isplatio", sa osmijehom na licu priča Milan.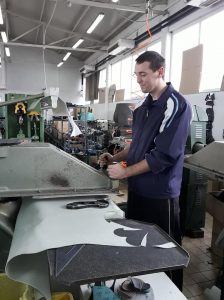 "Posao je dobar i nije pretjerano težak, treba samo malo vremena da se stekne rutina. Posebno dobro je to što ugovor pruža mogućnost napredovanja – što više mašina poznaješ veća je i plata, tako da je to stvarno korektno", navodi Milan.
Milan nije oženjen, ali mu posao daje materijalnu sigurnost i mogućnost da planira formiranje sopstvene porodice. "Morate prvo biti sposobni da izdržavate sebe, a poslije i porodicu", ističe Milan. "Posao je danas neophodan i mnogo mi znači što sam poslije toliko godina potrage za poslom konačno dobio priliku da radim i što sam zaposlen", zaključuje Milan.
Na kraju razgovora, Milan poručuje i savjetuje svima koji traže posao da se ne plaše, da imaju samopouzdanja, da budu otvoreni prilike koje se pojave i da uče stvari koje bi im mogle biti od koristi.
Do sada je u okviru projekta "Partnerstvo za kvalitetna radna mjesta i konkurentnost" zaposleno 10 od planiranih 50 osoba, dok će ukupno 75 nezaposlenih osoba biti osposobljeno za rad u metaloprerađivačkoj, drvoprerađivačkoj, prehrambenoj i industriji kože i obuće, kroz obuke koje organizuje Lokalno partnerstvo za zapošljavanje Prnjavor. Članovi Partnerstva Prnjavor su Agencija za razvoj preduzeća Eda Banja Luka (vodeći partner), Opština Prnjavor, Zavod za zapošljavanje Republike Srpske – Biro Prnjavor, Centar srednjih škola "Ivo Andrić" Prnjavor, MI Trivas d.o.o. i Topling d.o.o.