Šta da se radi u jednoj zemlji sa složenom administrativnom strukturom, kakva je Bosna i Hercegovina, u situacijama kada se nadležnosti za donošenje određenih politika nalaze na nivou entiteta, a u procesu pristupanja Evropskoj uniji postavljaju se zahtjevi za jedinstvenom pristupom u cijeloj zemlji? Šta ako, da stvar bude teža, nedostaje politička spremnost da se uspostavi djelotvorna zajednička koordinacija, ili se uspostavi mehanizam koordinacije koji ne funkcioniše?
Složene situacije ne mogu da se riješe na jednostavan način. Takva je naprosto njihova priroda. One u sebi sadrže međusobno protivrječne zahtjeve za koje se ne može, ili se veoma rijetko može, pronaći najmanji zajednički sadržilac. Pokušaji njihovog rješavanja često, u našoj balkanskoj, a bogami i bosanskoj, verziji, slijede logiku igara sa nultom sumom, gdje je dobitak jedne strane istovremeno i gubitak druge. Možda i ne slijede, ali je najčešće takva percepcija makar jedne od strana, vjerovatno one koja rješenjem može nešto da "izgubi". Za prelazak sa konkurentske na kooperativnu logiku win-win situacija, u kojima obje strane dobijaju, očito još nisu sazreli kulturološki, politički i drugi uslovi. Nema dovoljno međusobnog povjerenja. Dominira međusobno nepovjerenje. A stvari sa (ne)povjerenjem se teško i sporo mijenjaju.
U Izvještaju Evropske komisije o Bosni i Hercegovini za 2021. godinu[1] nerijetko se upućuje na to da nedostaje cjelodržavna strategija, politika ili zakon u određenim oblastima, na primjer:
Što se tiče preduzetništva i industrijske politika, Bosni i Hercegovini još uvijek nedostaje strategija industrijskog razvoja u cijeloj zemlji, kao i tijelo na državnom nivou koje promoviše konzistentnost između industrijskih strategija i koherentnost s drugim politikama koje utiču na industrijsku konkurentnost.
Što se tiče politike zapošljavanja, još uvijek ne postoji strategija zapošljavanja u cijeloj zemlji.
Što se tiče usluga informacionog društva, Bosna i Hercegovina nije postigla napredak u usvajanju državne strategije i akcionog plana za razvoj informacionog društva.
I tako dalje, da ne navodimo više. Oni koji pažljivije prate godišnje izvještaje Evropske komisije o BiH znaju da se ovakve konstatacije ponavljaju iz godine u godine, bez bilo kakvog ohrabrujućeg pomaka u ispunjavanju tako definisanih zahtjeva, ali i bez pokušaja da se izađe iz začaranog kruga. A "začarani krug" predstavlja jaz između Ustavom definisanih nadležnosti, s jedne strane, i zahtjeva za jedinstvenim rješenjima, radi uklapanja u evropsku perspektivu, s druge strane. Sve to ponekad podsjeća na birokratski stereotipno, nekreativno rješavanje poznatog problema u kojemu se traži da se svih devet tačaka spoji koristeći četiri prave linije, bez podizanja olovke i bez povlačenja olovke po istoj putanji unazad.

Suočeni sa takvim zadatkom, ljudi najčešće reaguju mehanički, spajajući tačke na način koji im se čini direktan i/ili najlakši. Neki prvo spajaju sve rubne tačke, drugi nastoje da odmah obuhvate unutrašnju tačku, treći pokušaju i jedni i drugo… Najčešći neuspjeli primjeri rješavanja su prikazani ispod. Ili je jedna tačka viška, ili treba još jedna linija. Razlog neuspjeha pri rješavanju je prikazan na poslednjoj slici: većina ljudi sebi nametne ograničenje koje ne postoji, tako što zamisli da linije moraju ostati u imaginarnom okviru koji čine ovih devet tačaka. Kako god da pokušate, u takvom okviru nije moguće doći do rješenja.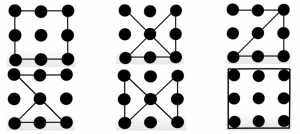 Na sličan način, nema rješenja za "kvadraturu kruga" Bosne i Hercegovine, rastegnute između raspodjele nadležnosti unutar zemlje i zahtjeva koji proizlaze iz procesa pridruživanja EU. Teško je očekivati da će doći do prenosa nadležnosti između nivoa vlasti u zemlji, kao što je podjednako teško očekivati da će EU napraviti izuzetak za BiH.
Ako nema uporišta u nadležnostima (nema nadređenosti), a koordinacija ne funkcioniše (nema spremnosti), šta je onda put za dostizanje dovoljno jedinstvenog pristupa u pogledu domaćih politika u procesu pristupanja Evropskoj uniji?
U narednih nekoliko priloga nastojaćemo da ponudimo put do rješenja koji je drugačiji od do sada korištenih puteva, a vodi do rješenja koja su nešto drugačija od očekivanih (čitaj: zadatih) rješenja. Zato što je Bosna i Hercegovina drugačija od zemalja sa kojima se nalazi u istom procesu, put do rješenja i rješenja do kojih se dođe ne mogu biti isti kao kod tih zemalja. Kod stvari koje su složene prirode, najveća greška je kada ignorišete njihov kontekst i pokušate da ih riješite na način koji vam se čini najlakši i/ili najdirektniji.
Ukratko, pokušaćemo da pokažemo da polazna "pat" situacija sa početka ovog priloga nije nerješiva i da postoji pristup koji može da bude djelotvoran, vodeći pritom računa o unutrašnjoj protivrječnosti problema i specifičnostima konteksta u kojima se pojavljuje. Radi se o putu "kojim se rjeđe ide", jer traži dobro poznavanje terena kojim se krećete, strpljenje, toleranciju na dvosmislenosti i osjetljivost na kompleksnost situacije kojom se bavite.
Nastavak slijedi…
[1] Izvještaj Evropske komisije o Bosni i Hercegovini za 2021. godinu: https://ec.europa.eu/neighbourhood-enlargement/bosnia-and-herzegovina-report-2021_en
Crteži koji su korišteni za ilustraciju problema devet tačaka su iz "Managing for Creativity: Lessons from the Nine-Dot Problem" – https://www.youtube.com/watch?v=5jtEJqQ3_Co