Tu i tamo se može naići na neki novinski članak sa spiskom nezaposlenih po zanimanjima. Međutim, ne sjećam se da sam ikada naišao na spisak traženih radnika po zanimanjima.
Priliku da napravim takav spisak za banjalučku regiju mi je pružio Sajam zapošljavanja u Banjaluci 2017. Jasno je da na Sajmu nisu bila sva preduzeća koja potražuju radnike, ali mislim da se na osnovu preduzeća koja su bili može oformiti gruba slika o tome koje profile radnika potražuju preduzeća iz banjalučke regije.
Na sajam organizovan u junu 2017. u Banjaluci (Dom omladine), prijavila su se preduzeća iz Banjaluke, Čelinca, Gradiške, Kotor Varoša i Prnjavora. Potraživala su blizu 800 radnika.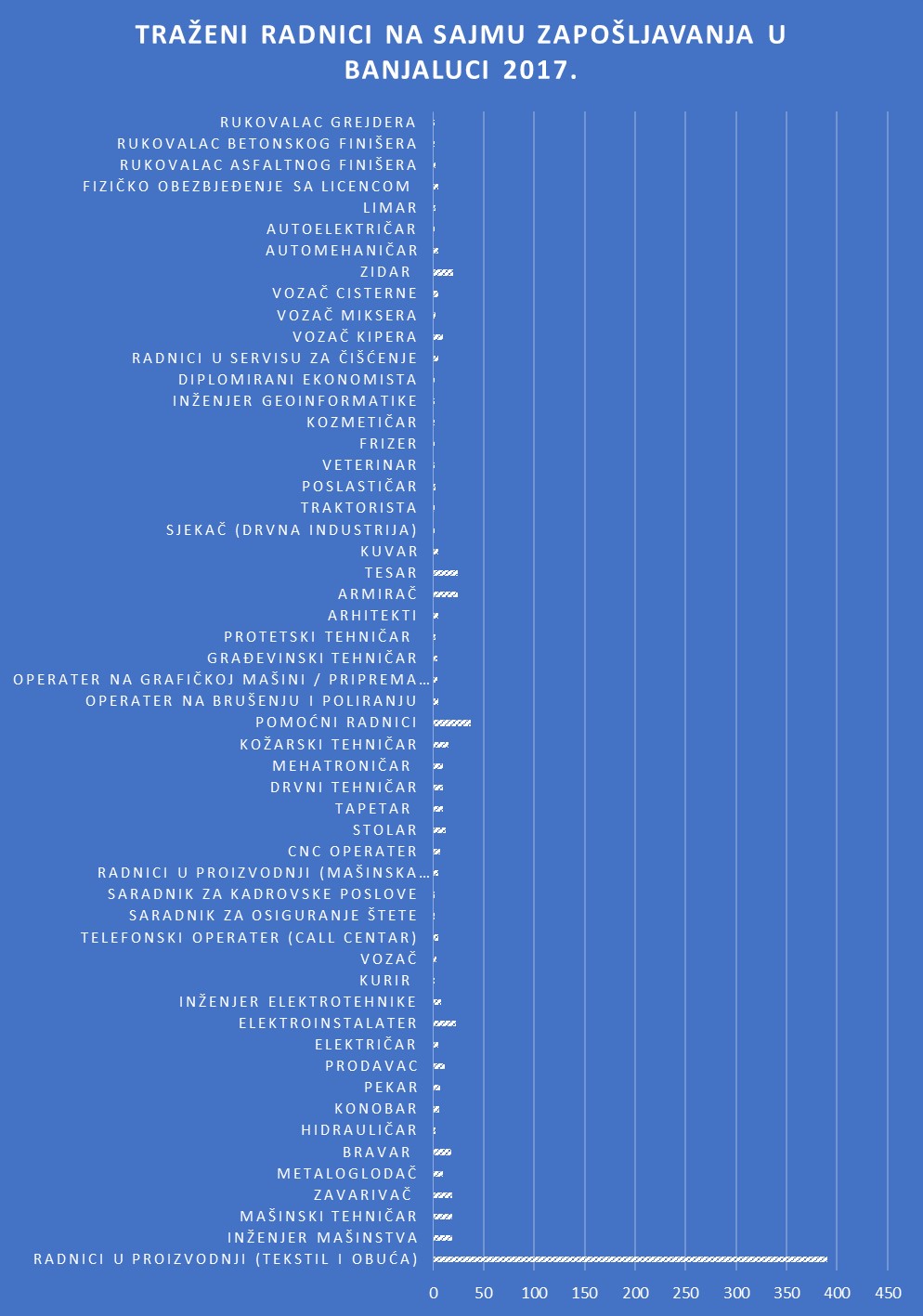 Ono što se odmah može primijetiti je da skoro pola traženih radnika potražuje industrija tekstila i obuće, i da se radi se o radnicima u proizvodnji. Uslovi za zaposlenje u ovim preduzećima su niski. Od kandidata se očekuje da posjeduje diplomu osnovne škole, tj. na konkurse se mogu prijaviti i nekvalifikovani radnici. Nizak nivo potrebnih vještina i znanja za rad na ovim radnim mjestima je uslovio i vrlo niske plate. Ovo ne treba da čudi ako se uzme u obzir da se proizvodi u industriji tekstila i obuće proizvode na isti način u Njemačkoj, Turskoj, Indiji i Republici Srpskoj, pa tako preduzeća u ovom sektoru moraju da ponude nižu cijenu proizvoda da bi bila konkurentna. Iz tog razloga, ona moraju negdje da naprave uštede u proizvodnji, a najefikasniji način da se napreve uštede su niske plate radnika. Dakle, preduzeća u ovom sektoru nude mnogo radnih mjesta, ali su to, uslovno rečeno, nekvalitetna radna mjesta.
Radi lakše analize, u daljem tekstu ću zanemariti ovaj sektor i pogledati drugu polovinu traženih radnika.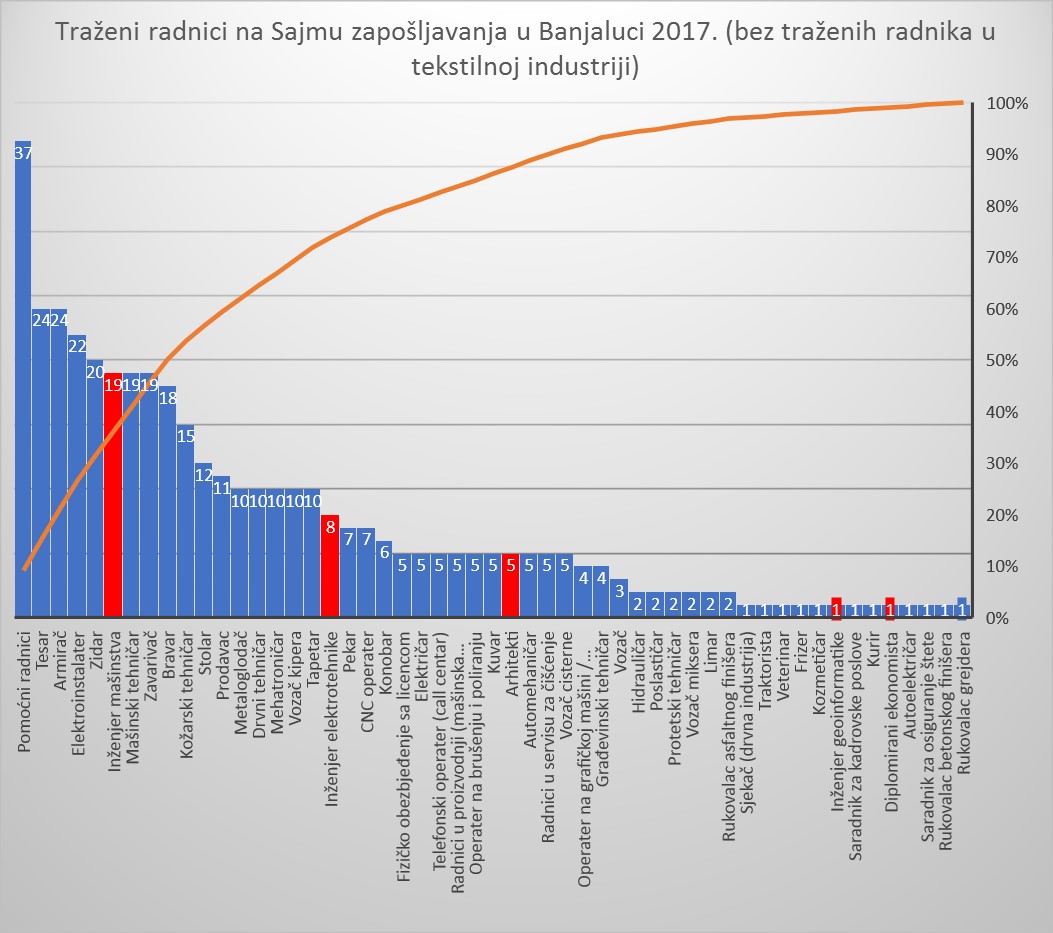 Kada se zanemare traženi radnici u industriji tekstila i obuće, najviše je traženih pomoćnih radnika (nekvalifikovani radnici – osnovnoškolsko obrazovanje). Uglavnom se radi o sektoru građevinarstva. Od zanimanja, najviše je traženih zanimanja u oblasti građevinarstva: tesar, armirač, zidar i elektroinstalater. Potom slijede inženjeri mašinstva (kao prvo zanimanje visoke stručne spreme), traži se njih 19. Od mašinskih zanimanja, traže se i mašinski tehničari, zavarivači i bravari.
Traži se i po desetak kožarskih tehničara, stolara, prodavaca, metaloglodača, vozača kipera, itd.
Ono što je meni bilo neočekivano je na banjalučkom Sajmu zapošljavanja bio relativno mali broj traženih CNC operatera (7), s obzirom da se u kontaktu s firmama može čuti da je to vrlo traženo zanimanje.
Vrijedi izdvojiti tražena zanimanja za koje je potrebno fakultetsko obrazovanje, a uglavnom se radi o inženjerima. Broj traženih inženjera je 28 (19 inženjera mašinstva, 8 inženjera elektrotehnike i 1 inženjer geoinformatike), broj traženih arhitekata je 5, a broj traženih diplomiranih ekonomista je 1.
Kada se grupišu traženja zanimanja prema nivou znanja i vještina koja je potrebno posjedovati, i to na sljedeći način:
5 – inženjer / fakultetsko obrazovanje
4 – tehničar
3 – zanatsko zanimanje
2 – obučeni radnik
1 – nekvalifikovani radnik,
dolazi se do sljedećeg rezultata: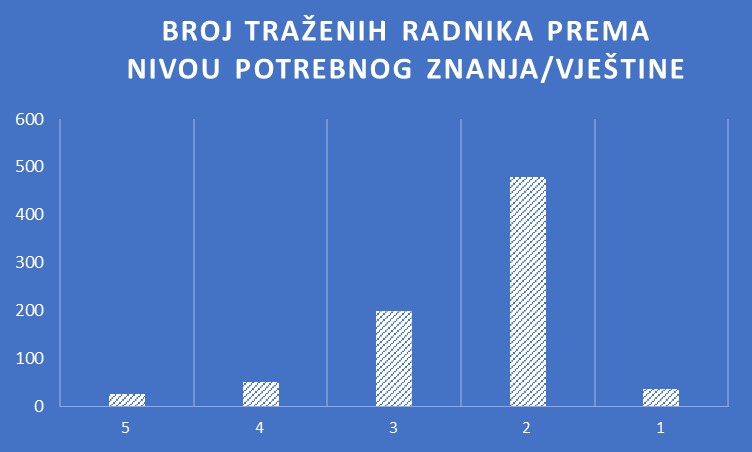 Dakle, preduzeća u banjalučkoj regiji najviše traže obučene radnike (pri čemu su uslovi za zaposlenje najčešće minimalni, pa se može govoriti i o nekvalifikovanim radnicima), i to 478. Uz 37 traženih nekvalifikovanih radnika, dobija se podatak da 65% traženih radnika na Sajmu zapošljavanja zapravo spadaju u kategoriju radnika sa minimalnim znanjima ili vještinama. S porastom znanja i vještina potrebnih za obavljanje određenog zanimanja, smanjuje se potražnja za tim zanimanjima. Tako je broj traženih zanatskih radnika 199, broj traženih tehničara 51, a broj traženih zanimanja za koje je potrebno fakultetsko zanimanje 26.
Vratio bih se na početak i podsjetio da na Sajmu zapošljavanja u Banjaluci 2017. nisu bila sva preduzeća iz Banjaluka i banjalučke regije, stoga ove podatke treba uzeti sa rezervom. Ali smatram da u najmanju ruku mogu poslužiti donošenju sljedećeg zaključka: Tražena zanimanja u Banjaluci su uglavnom ona za koja je potreban nizak nivo vještina i znanja. To nam ukazuje da je privreda banjalučke regije nedovoljno kompleksna i da su proizvodi relativno jednostavni, jer je potražnja za znanjem i vještinama niska.
Iz ugla preduzeća to znači da ne mogu biti konkurentna kvalitetom, već niskom cijenom. Iz ugla radnika to znači da su njihove vještine i znanje nepotrebni i da će ono što ostaje, a to je uglavnom njihov fizički rad na relativno jednostavnim poslovima, biti nisko plaćen.
P.S. U regiji Banjaluke je 35 000 ljudi na birou, preduzeća su na Sajmu tražila 800 radnika, a u sali je u trenutku moje posjete bilo možda desetak nezaposlenih. U svakom slučaju, više poslodavaca nego nezaposlenih. Međutim, to je tema za drugi blog.